SATURDAY --02-14-09-- The Big Event - My Sister's Wedding
After a nice warm bath and delicious cup of coffee and some pizzelles, I headed over to Pam's apartment. It's been just under a month since I was last there but Pam's been a busy girl. There are still a few boxes here and there but for the most part, the place has been put to rights and is looking good.
I just love the little window over her kitchen sink. It looks out onto the courtyard of the complex. She said she has changed the curtains three times already. haha.


We chatted merrily about what we were wearing and all the details of the Big Day and soon it was time for Pam to keep her hairdresser's appointment. At the little neighborhood hair salon, my Mother was already under the drier and my Aunt Earlene was just getting combed out. I hadn't seen Aunt Earlene since I was knee-high to a cricket so she immediately hopped out of the chair and came over to envelop me in a big ole down-home hug. She and her husband flew up from Maryland for the wedding.
Once Aunt Earlene's hairdo was finished, she stepped outside for a smoke and I went with her. Not to smoke, just to chat. Now you must understand that Aunt Earlene is famous in our family for Telling It Like It Is so she pulled no punches with me. She wanted to "set the record straight" about a few things - the primary thing being that she wanted me to know that my Mother had tried to get me back after Daddy spirited me away from her when I was little. Unfortunately, her new husband wasn't having any parts of that scene so this explained why I remained with my father. Then she wanted to know why I'd changed my name.
She said it had really hurt my mother who thought it was because of her.
I quickly negated that idea, explaining that it most definitely was not because of my mother but my step mother that I'd opted to go from my given name of Patricia to my chosen name of Heather. Okay. Glad we got that cleared up.
I soon met my Uncle Jimmy for the first time as he drove Aunt Earlene. Mother and I back to Rose's house. We sat and talked with my Mother awhile and then Rose came home from getting her hair and makeup done. She looked beautiful and we all got a kick out of her "Sexy Little Bride" hoodie.


Her hairdo was lovely, complete with a little beaded tiara and sparkly crystal butterflies embedded in the French twist. Pam swung by to pick me up after her hair had been finished and we dashed off in search of a red purse for her daughter, Kerry. Pam said she'd never been through a store so fast in her life as we tried two or three different places to no avail. I had to dash into Michael's to pick up a set of beading tools. Turned out my cross necklace had to be shortened. Dummy me, I forgot to try it on with my red dress and when I put it on, it kinda got lost in the cleavage. haha
I told Pam that was the quickest trip I'd ever made through Michael's, too. But now we were both all set and she dropped me off at the suite.
Now anyone who knows me will tell you, I'm not one to lollygag around. I already had my entire outfit set out on the bed, from the skin out so I just got dressed, did a bit of touchup on my makeup and hair and schlepped on over to Pam's place. But was she ready? Uh, that would be a no. I think I surprised her showing up as quickly as I did.
Niece Kristy was at the diningroom table with her makeup mirror, putting on her face. I won't bore you with all the rest of the details because it's now time to move onto The Big Event.
It was quite cold - about 40 degrees - but my romantic sister just had to arrive at the church in a horsedrawn carriage with her Matron of Honor (daughter Melissa) and Mother.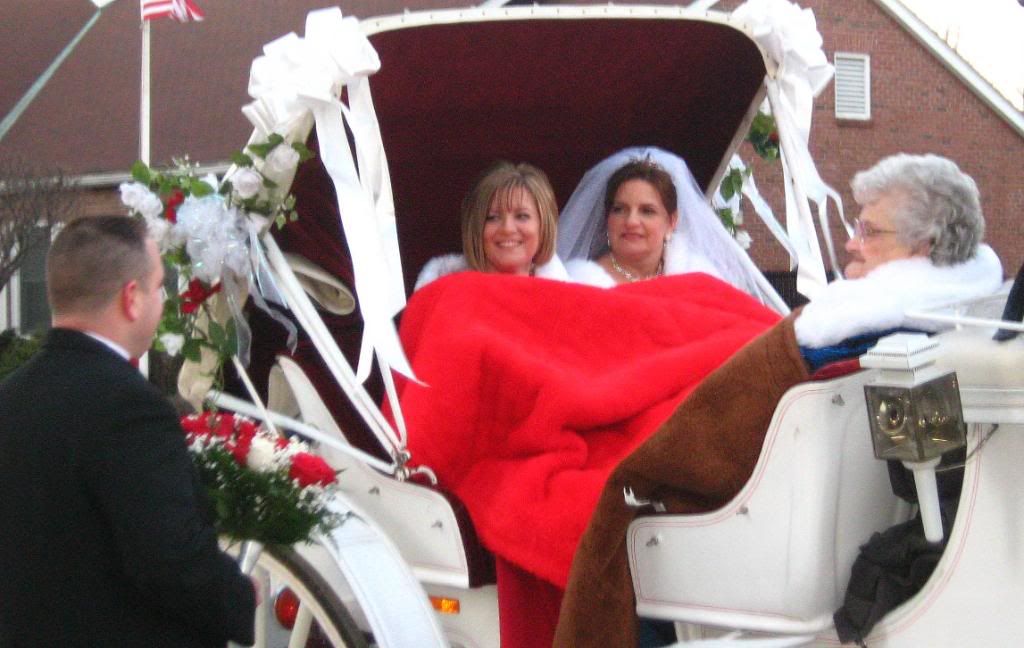 Let's just say Rose looked like a princess and John was beaming all over his face. The church is gorgeous and mother looked beautiful, too as she
walked Rosie up the aisle.

There ceremony was very lovely and meaningful, complete with the traditional reading from I Corinthians 13 about love is patient, etc. Rose and John also had someone read the Prayer of St. Francis of Assisi which I thought was a nice touch. When John said his vows, he said, "My Bella Rosa" - his pet name for Rose. It was all just so terrific. I didn't cry, though. I was too busy grinning happily, just savoring the joy of being present with all my family to witness this special event.
As they were walking down the aisle after the ceremony, Rosie caught my eye and smiled just as I clicked the shutter. Aw, doesn't she look happy?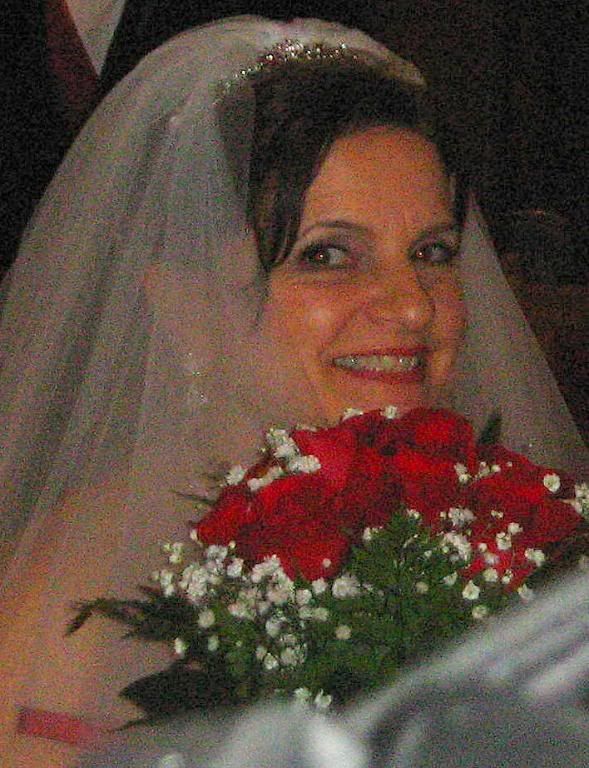 Rose and John were taken to their reception in the horsedrawn carriage, too. Just after they got settled in, John popped open a bottle of champagne and offered a toast to the assembled friends and family.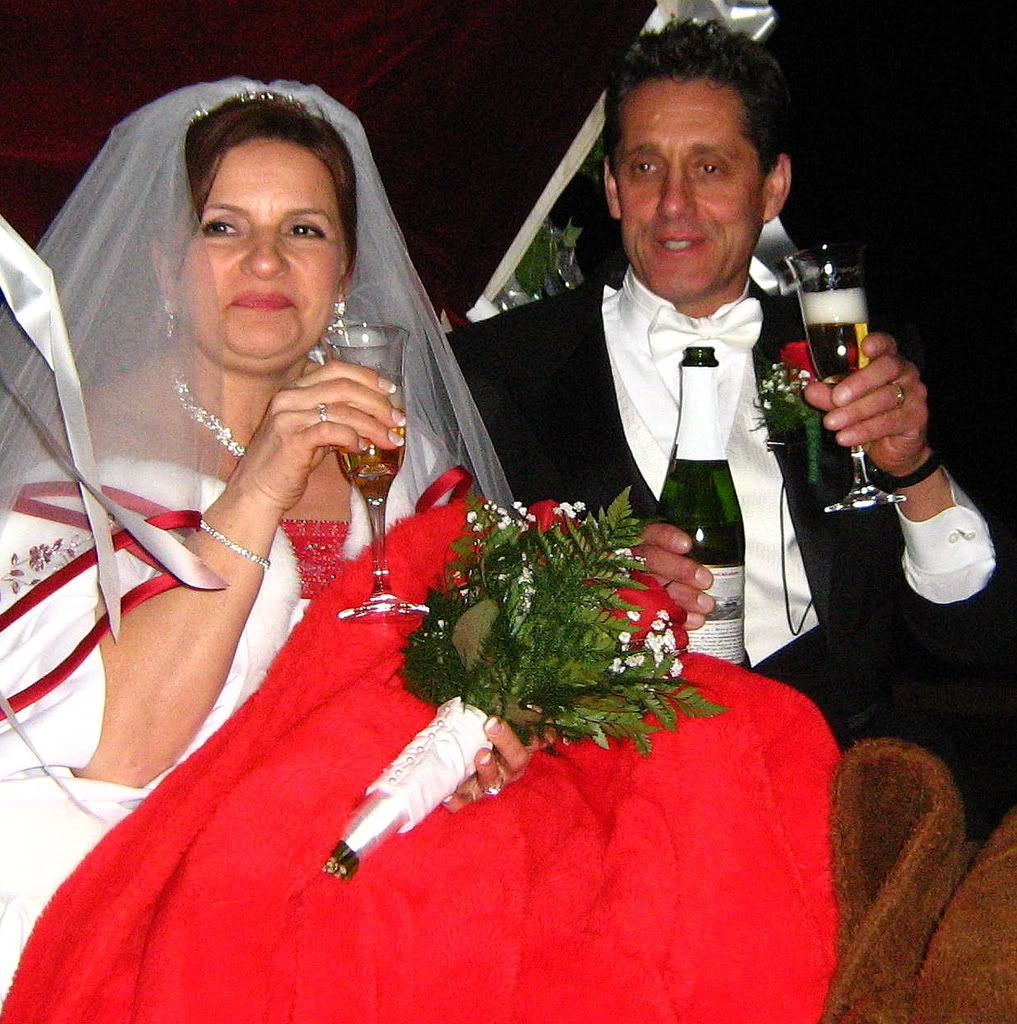 Then it was off to the reception! More about that later.